Since its beginnings in 2016 Crosstek's membrane products evolved to a leading offering for industrial ESG, enabling customers to implement water reuse and displace freshwater intake, with higher reliability and ultimately, lower total cost of ownership for the plant operator.
AquaZoom® Disc Tube RO
Membrane
AquaZoom® Spacer Tube
RO Membrane
AquaZoom® ST Lite
RO Membrane
Ultressa® zUF
Hydrophilic UF
PRODUCT: Patented, advanced semi-batch RO process utilizing proprietary PLC code, process optimization software and data acquisition with dynamic adjustment. Reduce operating cost up to 90% without compromise on effluent quality or operability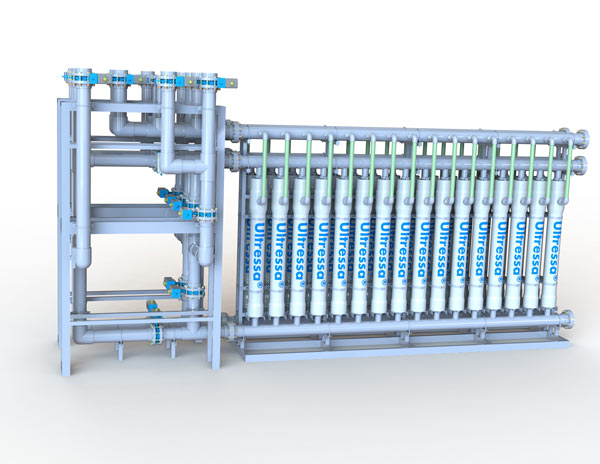 PRODUCT: Pressure ceramic SiC UF. Highly hydrophilic, anionic to address organic fouling optimally. Only NSF419-certified SiC for US drinking water. Enables increased production and PFAS removal (add carbon to feed) in existing UF equipment
CrossTek Traction in each Business Unit
zNano:
Bioinspired Coatings for Industrial Zero Water Waste
1000's of uncoated polymeric membrane elements sold to date by Crosstek over 5 years (rolled by M+H)
zUF has 100's of membranes installed in US to date and new customer acquisition underway
Successful piloting of zUF and zNF in China for the past year, currently undertaking launch efforts
All new projects using spiral wound membranes will use either coated or uncoated Crosstek internal products
Technology
Advanced self-assembled, nanotechnology coatings with huge, disruptive potential for advanced separations and other interfacial chemistry applications
Current Product
Coated hydrophilic UFand NF (future RO) membranes in spiral and disc formats
Market Potential
Applicable to water, wastewater, process fluids, molecular separations, etc. with revenue potential > $150M/yr
Xcerro:
intelligent RO software for zero water
Greater than 90% opex savings with no impact on system capex shown in dairy wastewater pilot. Anticipate at least two sales in ESG space in the next two quarters
Executing 1MGD and 0.2MGD MBR + Xcerro RO projects in Texas and North Carolina for wastewater reuse. Xcerro has superior water recovery. Secured SaaS recurring and membrane replacement sales under warranties
Technology
Most advanced semi-batch NF/RO optimization tool implemented via adaptive control and monitoring software packages. Enables higher water recovery, improved reliability, reduced chemicals and power. Global patents.
Current Product
Multilevel software subscriptions offered for retrofit and greenfield NF/RO systems
Market Potential
Technology expected to dominate retrofit and greenfield projects. Global revenue potential > $150M/yr
CT Ceramics:
future of mainstream RO pre-treatment
Retrofit of hollow fibers in industrial MBR with ceramic flat sheet membranes. Running flawlessly for 18 months
Texas and North Carolina MBR contracts contain ceramic flat sheet membranes as part of unique solution
On-going 13-month pilot trial for pressurized ceramic membrane for drinking water treatment shows 1.4X higher flux compared to competitive ceramic and 4.2X higher flux than competitive polymeric membrane
Technology
Advanced ceramic materials with novel module design to produce best in class ceramic membrane technology
Current Product
Pressurized and flat sheet membranes (initially licensed third party products). Coveted US drinking water certification (NSF419) achieved 2022
Market Potential
Water & wastewater applications in drinking water and wastewater reuse alone have revenue potential > $100M/yr
Copyright © 2022 CrossTek Membrane Technology LLC - All Rights Reserved